Image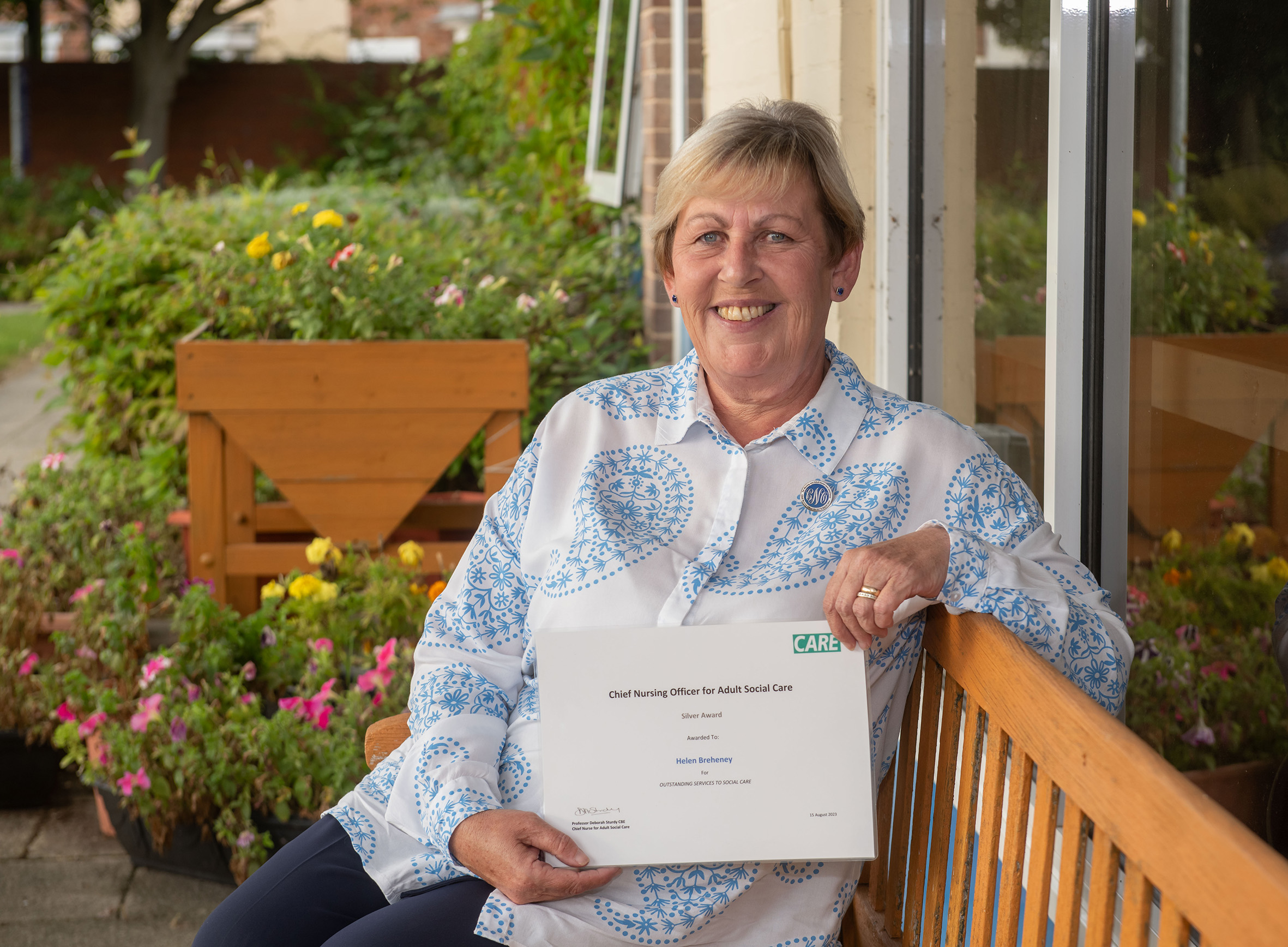 A dedicated manager who is an inspiration to her team and to the entire North Yorkshire care sector has been honoured with a national award.
The registered manager at Carentan House in Selby, Helen Breheney, received the Chief Nurse's Adult Social Care Silver Award for ensuring exceptional service is delivered to residents.
Presented by Deborah Sturdy, the chief nurse for adult social care in England, the award recognises the outstanding contribution made by social care workers and nurses and their "skills, expertise and enduring compassion".
Helen, who has years of experience in adult social care having worked for us for almost two decades, is passionate about the people she supports.
She was nominated by us service manager, Wendy Macdonald, after receiving positive feedback from Deborah and the quality and nursing team during their visit to Carentan House in December last year.
Carentan House is a residential care home providing accommodation and personal care for adults, some of whom are living with dementia. The service includes facilities to provide care on a short stay, respite or rehabilitation basis.
Executive member for health and adult services, Cllr Michael Harrison, said: "Congratulations to Helen for this national recognition. Helen believes in herself and her team and continually seeks to improve lives.
"This award is also a recognition of the work the wider team has done and continues to do to improve the lives of the people we care for across North Yorkshire. Well done to all involved."
Mother-of-three Helen, who lives in Selby, said she was thrilled to receive the accolade.
She said: "After the initial shock and surprise, I felt really proud of what myself and my brilliant team here at Carentan have achieved and continue to achieve.
"Receiving this award means a lot to me and I feel humbled to be recognised for doing a job that I love. Working in the adult social care sector means I can make a positive impact on people's lives. I must admit each day is varied, but my main responsibilities are ensuring exceptional service is delivered to our residents by promoting the highest standards of care with a focus on person-centred care results in positive outcomes.
"I would like to thank everyone who works in provider services and for all the support I receive from my staff, colleagues and provider managers."
Praising Helen's hard work and commitment, director of adult social care, Rachel Bowes, said: "A massive congratulations to Helen on being awarded the Chief Nurse's Silver Award for her outstanding contribution to adult social care. What a fantastic achievement and great recognition for a job well done."
This is the second time this year our adult social care team has been recognised nationally. Earlier this year, principal nurse Sarah Fiori was honoured with the Chief Nurse Adult Social Care Gold Award.