Many people find comfort in creating a memorial to a loved one following a burial or cremation. Memorials can provide a peaceful place to visit and remember those who have passed away. We have a number of memorials available to order that would create a fitting tribute for your departed loved one.
Five or ten year dedication periods
All memorials are dedicated for either five or ten years.
The lease period commences once your memorial is installed and you will receive a statement showing the date of installation along with the date for renewal.
Once the dedication period elapses there is the option of renewing it. We will send a renewal notification letter to the applicant at the address given on the order form. For this reason it is important to notify us of any change of address. Alternatively you may prefer to take the plaque away. Memorials that are not renewed or removed will be stored for a period of one month and if not claimed, recycled and the money given to charity.
Order forms and payments
Please complete the relevant order forms below and return it to us. You will then need to contact us to make payment by credit or debit card. You will receive a receipt and confirmation of the wording of the inscription.
Find memorial prices on our bereavement service fees page.
Memorial bench
The council welcomes donations of memorial benches and wherever possible we will try to accommodate individual wishes. The council can install memorial benches in a number of locations within the district.
For more information, visit our memorial benches in the Scarborough area page.
Or contact us.
Book of Remembrance
The Book of Remembrance is located in the Remembrance Chapel and is a traditional way to commemorate a loved one. Inscriptions are handwritten on leaves of parchment.
Memorial entries are carefully inscribed by skilled artists with the wording of your choice, and are placed in memory of a loved one on a commemorative date. This can be the date of death, cremation, birthday, anniversary or another date which is most memorable to the family.
If you wish to view an entry on a day, other than which it appears in the book, you may do so during normal office hours. There is an digital version of the book located within the Remembrance Chapel which has a touch screen. Copies of the book are also available to view anytime on line at the Woodlands Crematorium Book of Remembrance website.
If you choose to arrange an entry in the Book of Remembrance you will also receive a Memorial Card which bears a copy of the inscription – additional cards can be ordered. We provide this service on a complementary basis, however if you would like a motif or badge added this can be arranged for an additional fee.
Image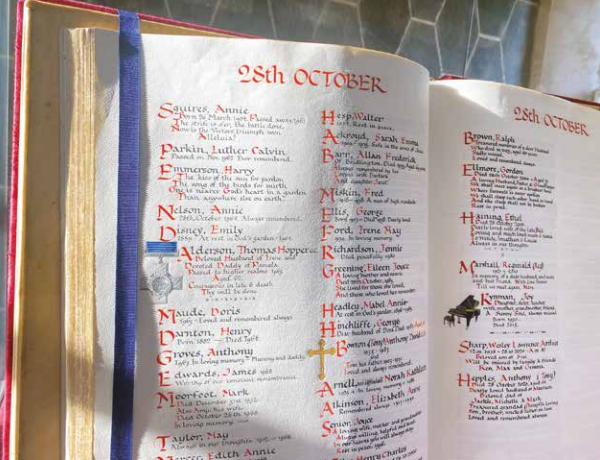 Inscriptions can take the form of 2 lines, 5 lines or 8 lines and can incorporate a floral emblem, a badge, shield, crest etc including hobbies and pets and illuminated initials.
Complete the Book of Remembrance order form (pdf / 947 KB) and return it to us.
Bronze plaque by tree or in flower bed
A popular way of remembering a loved one is to have an existing flower bed or tree in their memory. Memorial flower beds and trees are available within our Garden of Remembrance.
Please note that the flower beds and trees have already been planted and it is therefore not possible to have a flower bed or tree planted in a specific location.
Each flower bed or tree will be accompanied by an bronze (6"x4") plaque, bearing an inscription positioned in front of the memorial.
Complete the bronze plaque memorial order form (pdf / 87 KB) and return it to us.
Image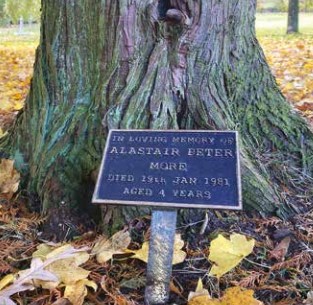 Bronze kerb plaques (6"x4") are painted black, which allows the inscription to display in bronze and are placed along the path edges in the Gardens of Remembrance.
Kerb plaques can accept the name of one person, with a short inscription, or the names of two people along with the dates of death.
Complete the bronze plaque memorial order form (pdf / 87 KB) and return it to us.
Image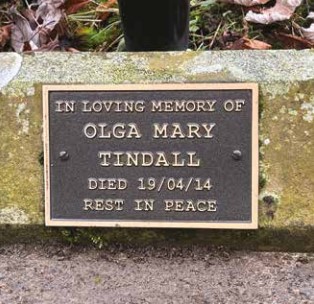 The memorial wall plaques are located in the Remembrance Chapel at Woodlands Crematorium and are made from a natural timber veneer.
The wall plaques are precision engraved and can include a motif or photograph. There are four wall plaques available:
inscription only
inscription with engraved motif
inscription with engraved and hand painted motif
inscription with photograph
Complete the memorial wall plaque order form (pdf / 88 KB) and return it to us.
Image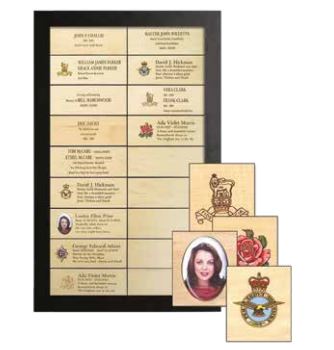 Tablet and vase on granite block
Tablet and Vase Blocks are positioned around the edge of the pathways in designated areas within the gardens. The vase is made of white marble, inset with a black granite tablet.
Choosing a memorial vase allows you to have your own personal place where you can leave your floral tributes over a period of five or ten years.
Please note that additional pots or ornaments are not permitted.
Complete the order form for a tablet and vase memorial (pdf / 85 KB) and return it to us.
Image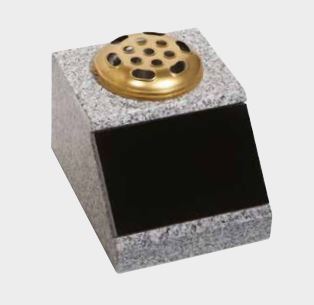 Memorial disc on granite mushroom
The discs are embedded into a range of free standing mushroom shaped memorials with room for three, four or five circular dedication discs, ideal for a family memorial or individual.
Each circular disc measures 4 inches in diameter and is made from black granite with text inscribed in gilded lettering.
Complete the memorial disc order form (pdf / 72 KB) and return it to us.
Image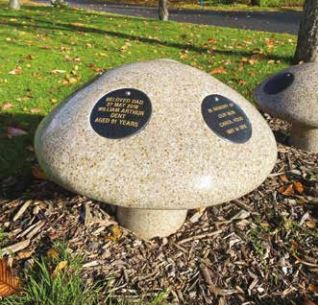 Children's memorial plaques
These thoughtfully designed plaques are perfect for remembering young lives. There are two designs, 'To the Moon and Back' and 'Butterfly'. These plaques are designed with a spiral attachment which twists into the ground offering a stable, secure and rust proof fixing.
Complete a childrens' memorial plaque order form (pdf / 87 KB) and return it to us.
Image